ROLLING FORK, Mississippi - Rescuers raced Saturday to search for survivors and help hundreds of people left homeless after a powerful tornado cut a devastating path through Mississippi, killing at least 25 people, injuring dozens, flattening entire blocks and obliterating houses in at least one Mississippi Delta town as it carved a path of destruction for more than an hour. One person was killed in Alabama.
The tornado devastated a swath of the town of Rolling Fork, reducing homes to piles of rubble, flipping cars on their sides and toppling the town's water tower. Residents hunkered down in bathtubs and hallways during Friday night's storm and later broke into a John Deere store that they converted into a triage center for the wounded.
The Mississippi Emergency Management Agency announced late Saturday afternoon in a tweet that the death toll had risen to 25 from 23. Four people previously reported missing have been found, but dozens also were injured.
Other parts of the Deep South were digging out from damage caused by other suspected twisters. One man died in Morgan County, Alabama, the sheriff's department there said in a tweet.
'There's nothing left,' said Wonder Bolden, holding her granddaughter, Journey, while standing outside the remnants of her mother's now-leveled mobile home in Rolling Fork.
Throughout Saturday, she and others walked around dazed and in shock as they broke through debris and fallen trees with chain saws, searching for survivors. Power lines were pinned under decades-old oaks, their roots torn from the ground.
Mississippi Gov. Tate Reeves issued a State of Emergency and vowed to help rebuild as he headed to view the damage in an area speckled with wide expanses of cotton, corn and soybean fields and catfish farming ponds. President Joe Biden also promised federal help, describing the damage as 'heartbreaking.'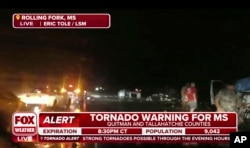 This screen grab from video broadcast by Fox Weather shows the immediate aftermath of severe weather in Rolling Fork, Miss., late Friday, March 24, 2023. (Fox Weather via AP)
The damage in Rolling Fork was so widespread that several storm chasers - who follow severe weather and often post livestreams showing dramatic funnel clouds - pleaded for search and rescue help. Others abandoned the chase to drive injured people to the hospital.
The community hospital on the west side of town was damaged, so patients had to be transferred elsewhere.
Sheddrick Bell, his partner and two daughters crouched in a closet of their Rolling Fork home for 15 minutes as the tornado barreled through. His daughters wouldn't stop crying. He could hear his partner praying out loud beside him.
'I was just thinking, 'If I can still open my eyes and move around, I'm good,'' he said.
Rodney Porter, who lives about 32 kilometers south of Rolling Fork and belongs to a local fire department, said he didn't know how anyone survived as he delivered water and fuel to families there.
A vehicle awaits removal, March 25, 2023, after getting destroyed by a Friday night tornado that hit Rolling Fork, Miss.
'It's like a bomb went off,' he said, describing houses stacked on top of houses. Crews shut off gas lines to the town to prevent fires and keep residents and first responders safe.
The warning the National Weather Service issued Friday night as the storm hit didn't mince words: 'To protect your life, TAKE COVER NOW!'
Preliminary information based on estimates from storm reports and radar data indicate that it was on the ground for more than an hour and traveled at least 274 kilometers, said Lance Perrilloux, a meteorologist with the weather service's Jackson, Mississippi, office.
'That's rare - very, very rare,' he said, attributing the long path to widespread atmospheric instability. 'All the ingredients were there.'
Perrilloux said the preliminary findings are that the tornado began its path of destruction just southwest of Rolling Fork before continuing northeast toward the rural communities of Midnight and Silver City before moving toward Tchula, Black Hawk and Winona.
The supercell that produced the deadly twister also appeared to produce tornadoes that caused damage in northwest and north-central Alabama, said Brian Squitieri, a severe storms forecaster with Storm Prediction Center in Norman, Oklahoma.
In northern Alabama's Morgan County, a 67-year-old man who became trapped beneath a trailer that flipped over during severe overnight storms was rescued by first responders, but he died later at a hospital, AL.com reported.
Even as survey teams work to assess how many tornadoes struck and their severity, the Storm Prediction Center is warning of the potential for hail, wind and possibly a few tornadoes on Sunday in parts of Mississippi and Louisiana.
Cornel Knight told The Associated Press that he, his wife and their 3-year-old daughter were at a relative's home in Rolling Fork when the tornado struck. He said the sky was dark but 'you could see the [tornado's] direction from every transformer that blew.'
People sit in front of a damaged home, March 25, 2023 in Silver City, Miss. Emergency officials in Mississippi say dozens were killed by tornadoes that hit the state Friday night.
He said it struck another relative's home across a wide cornfield from where he was. A wall in that home collapsed, trapping several people inside.
Royce Steed, the emergency manager in Humphreys County where Silver City is located, likened the damage to Hurricane Katrina in 2005.
'It is almost complete devastation,' he said after crews finished searching buildings and switched to damage assessments. 'This little old town, I don't know what the population is, it is more or less wiped off the map.'
The tornado looked so powerful on radar as it neared the town of Amory, about 40 kilometers southeast of Tupelo, Mississippi, that one meteorologist paused to say a prayer after new radar information came in.
'Oh man,' WTVA's Matt Laubhan said on the live broadcast. 'Dear Jesus, please help them. Amen.'
Now that town is boiling its water, a curfew in effect.
More than a half-dozen shelters were opened in the state to house the displaced.
'It's a priceless feeling to see the gratitude on people's faces to know they're getting a hot meal,' said William Trueblood, emergency disaster services director for the Salvation Army's Alabama, Louisiana and Mississippi Division, as he headed to the area, picking up supplies along the way.
He said his organization heard at least 19,000 homes were affected by the severe weather.
Still, there were signs of improvement. Power outages, which at one point were affecting more than 75,000 customers in Tennessee, Mississippi and Alabama, had been cut by a third by midafternoon Saturday, according to poweroutage.us.